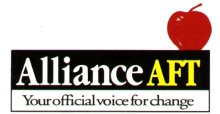 ---
Our office is currently open Mondays - Thursdays, 9:00 am - 5:30 pm and Fridays, 9:00am - 4:30pm.  Members needing assistance, please call and speak to someone in the Grievance and Legal Department. The number is (214) 942-4663. 
Not a member of Alliance/AFT yet? Please click on the following link to fill out and submit the membership application: https://member.alliance-aft.org/user/login.
You may email any questions, concerns, issues, and any documents you have to one of the following officers:
President Rena Honea – rena@alliance-aft.org
Exec. VP – George Rangel – geodls@aol.com
Secretary-Treasurer – Patricia Jones – patdls@aol.com
Also, check our Facebook and social media pages as well as our website as we are doing our best to keep them updated.
---
The Alliance/AFT regular office hours are as follows:
​Monday - Thursday ~ 9:00 am - 5:30 pm
​Friday ~  9:00 am - 4:30 pm
​Alliance/AFT follows the same calendar that Dallas ISD follows for the campuses during the school year. 
​For additional information, please call (214) 942-4663.
​